"Honoring the unique character of each of our schools while
challenging us to better reflect the depth and breadth of
our Episcopal Identity is of inestimable value".
~ Dr. Tad Bird, Head of School,
All Saint's Episcopal School, Fort Worth
Serving as a resource for school leaders is central to our mission of service. In our "Resources" section, you will find a variety of tools that can help you respond to the myriad challenges facing Episcopal schools today. Many of these tools are available to the public and simply contact us if you would like to discuss using them in your school environment. Others are accessible only to member schools. For example, our complete "on-demand" webinar library is open to members only. Please do not hesitate to contact us if you would to discuss how best to use SAES resources to acheive success in your school community. Member schools: please contact the SAES office if you are having difficulties accessing the secured pages.
Book & Video Series: Making Room for Everyone
More Stories for Building a Children's Chapel by Bill Gordh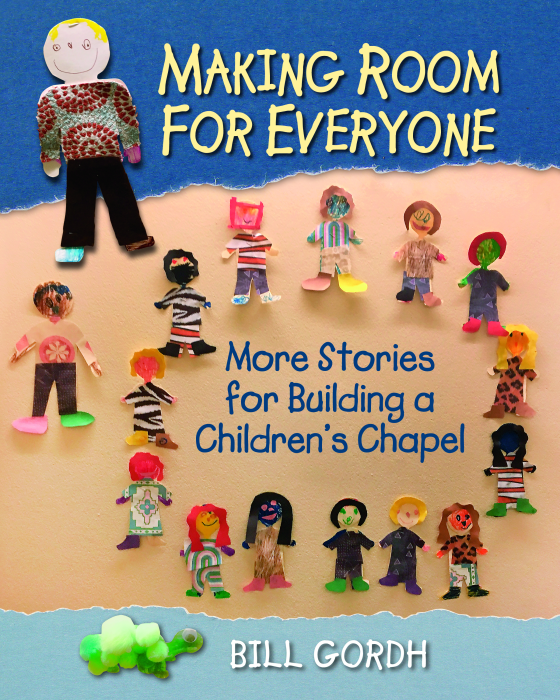 This is an exciting companion book to the author's previous volume,
Building a Children's Chapel: One Story at a Time
. Working with the same overall themes, this book presents a wide range of folktales from around the world, stories from different faith traditions, and one original story. The stories are presented to be told and the author provides the story as well as a story skeleton, storytelling tips and musical suggestions for each tale. Click
here
to view the "Making Room For Everyone" song.
Bill Gordh is an award winning storyteller, banjoist, educator and author. His books include Want a Ride? (Random House - Over 160,000 sold), Hop Right On (Golden Books), 15 Easy Folktale Fingerplays (Scholastic), Stories in Action (Libraries Unlimited), Building a Children's Chapel (Church Publishing) and The Seven Towers of Wonder (Thornwillow Press). He is the Director of Expressive Arts at the Episcopal School in the City of New York. He has led courses on children's worship at Union and General Seminaries, is an ongoing consultant to Bnai Jeshurun Synagogue, has been Keynote speaker at the Philadelphia Episcopal Diocese Conference, featured speaker at NAES Biennial Conferences, SWAES Early Childhood Conference and a variety of other gatherings. Bill has performed with the New York Philharmonic, at the Clearwater Festival, the Gerald Ford Amphitheatre in Vail, CO; the Byzantine Fresco Chapel Museum in Houston, TX; the Tribeca Film Festival and for 3 years during the Clinton administration was a featured storyteller at the White House Easter Egg Roll.